Cycleops Fluid 2 Bike Trainer Overview
This is an excellent trainer which will help you to train in off season when you can not go out for cycling.
Train off-season
The Cycleops fluid 2 trainer is a great way to train even in off season.  This will keep you in perfect condition and you don't miss your training workouts. Some cycling enthusiasts do not like the idea of indoor training but these trainers can give you a really good workout as if you are riding on your track. If you cannot ride outside for any reason, this can be a very good option.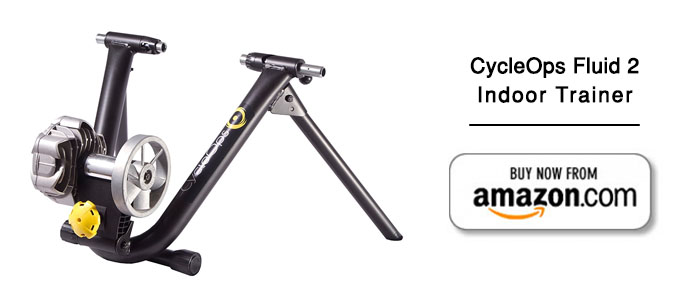 Fluid Resistance
The trainer has a nice and sturdy frame so you can be assured of the stability and durability. It uses a fluid resistance. It is more like cycling on the road and you won't feel much difference

between the two. Resistance is smooth and natural because of oil and a big flywheel. You won't feel any vibrations and noise while working out. The resistance level offered by the trainer has a good range for every kind of a training need.
Resistance power curve –
Cycleops fluid trainer gives you a progressive power curve which means that faster you pedal, resistance will also increase. If you are cycling at 20 mph it will be twice as tough than riding at 10 mph
Noise
Although the trainer is pretty quiet but some users have this ticking sound when they workout. If this happens, check out the nut on the flywheel, it may have come loose. Just tighten it up and you will be good to go.
If you have noise while cycling, it could be the tire tread on your cycle rubbing against it and making noise. Just get slick tires and noise will be gone.
A lot of professional cyclists use this trainer which helps them to perform better
See the full specifications and details here
You get the trainer with easy to follow instructional videos so that you can set up everything easily and start with your training right away. Once you have set it up, you will just enjoy it. Customer support of the company is quite good.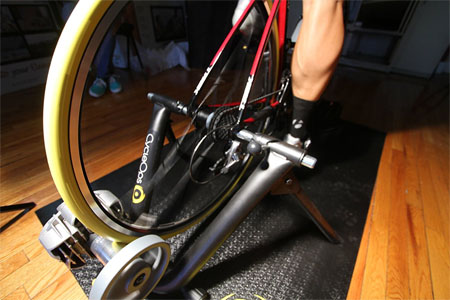 Riser Block
A riser block may be required if you feel the need for it. You can use it to raise the front wheel of your bike. Some people prefer it with riser block on front wheel to get into a more comfortable position. You can raise the wheel to 3 different heights
2.1 inches (5.3 cm)
2.7 inches (6.8 cm)
3.1 inches (7.9 cm)
| | |
| --- | --- |
| | CycleOps Riser Block for Indoor Bicycle Trainers |