Precor 9.33 Treadmill Overview
Precor treadmills offer one of the best workout experiences on a treadmill. The components that go into this machine are built to last, that is why they can afford to offer a 10 year parts warranty. The company has a reputation to build high quality treadmills with long warranties. They have been in the fitness industry for over 20 years and have invested millions into research and development to provide the best quality machines.
They cater to premium segment of treadmills and the products are in the range of 2500$ and above. The Precor treadmills are usually higher in price when compared to other brands. But at the same time it is assembled with highly durable parts and therefore the quality is good.
Check out the best deals on 9.33 treadmill here
Features
The Precor 9.33 Treadmill has some beneficial upgrades over the Precor 9.31. 9.33 has a great design with a powerful 3.0 CHP motor, speeds ranging from 0.5 to 12 mph (0.8-20 km/h). It has a good powder coated steel frame making the machine weigh 335lbs. You can adjust the intensity with inclines up to 15%.
There are 16 preset programs to choose from combined with multiple user IDs that makes it easy to focus on your fitness goals.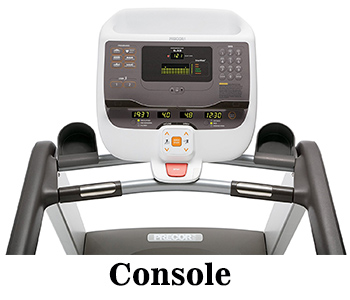 Precor treadmill uses the Integrated foot plant technology™ which adjusts belt speed to foot speed that fully complements and supports your natural running stride. The Ground Effects® Impact Control System absorbs the shock of impact and stabilizes lateral movement while you walk or run reducing impact on joints.
The console has touch-sensitive controls which respond as soon as your finger lightly touches the recessed button area.
CR rated the Precor 9.33 as "Excellent" for quality, exercise range and ergonomics. Precor offers a very generous 10 year parts and wear items warranty with one year labor and a Lifetime warranty on frame. The only thing that people don't like about Precor 9.33 treadmill is the price. There are some other good choices available when you are spending good money. Life fitness treadmills have some good option in the premium segment.