Waterrower Classic Rower Overview
Waterrower is a company that is well known for its high quality rowing machines. The company handcrafts its machines to near perfection. They are so good in aesthetics that many people would call its products as a piece of art. They are beautiful and made from best hardwoods most of which come from renewable forests. So you can be assured of quality products from the company.
The classic rower is a high quality, durable machine which Is also a choice of professional rowers. Whether you are a beginner or a professional, you can use this machine with ease. The machine comes in beautiful Black walnut and finished in Danish Oil. Good quality hardwood helps to increase longevity and decrease sound and vibration The machine is handcrafted in USA which means a good quality product.  When not in use, the rower can be stored upright against a wall.
We will get into more details with the features and specifications of the product.
Features
Patented Water Flywheel – This is a patented technology which uses water resistance making it very realistic with consistent strokes.
Solid American Walnut wood frame, handcrafted to perfection – this makes it beautiful as well as durable
Polycarbonate water tank can give you years of service without any problems. This is closest to actually rowing on water
Ergonomic seat as well as well-designed footrests ensure safety and comfort of the user.
User capacity of 1000lbs means that anyone can use the machine easily without worrying about heavy weight.
The machine comes with a S4 monitor to see all the relevant workout metrics and you can also save data for 3rd party integrations and future reference.
Dimensions
Height: 20 inches
Width: 22.25 inches
Length: 82.25 inches
Weight: 66.5 lbs (103.5 lbs with full water tank)
S4 monitor
The classic rower comes with a multifunction S4 monitor. The monitor is well equipped and gives you all the important metric of your workout which you need to know. It can perform one touch quick start so you don't need to fiddle with buttons, just push a button and it will start up .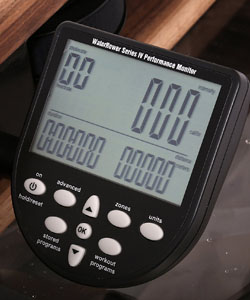 The monitor can track
Intensity
Duration
Distance
Stroke Rate
The monitor is also divided into 5 neat windows so that all your data can be read easily. All these windows are easy to read and understand.  Perhaps the only downside to the monitor is that it is not backlit, so it may be a bit difficult to read in the dark. Otherwise it is very convenient and easy to read.
One of the good things about S4 monitor that it can connect with your PC so you can upload all the data related to your workout to your PC.
Here is a video which tells you everything about the monitor
Assembly and Shipping
The rowing machine is shipped in two boxes, one is for the tank and other is for the rail. Generally, it can take around 30 – 60 minutes to assemble the whole thing. You just have to follow the instructions that come with the packing and there should not be any issue with the assembly. Allen Wrench is the only tool you will require.
The rower comes with a small hand pump to fill the tank with water but the good thing is that you only have to do it once. The whole process can take around 10-15 minutes.
As a recap, we will list all the positives and negatives of the machine –
Positives
Durable and good quality
Good looking
Better resistance technology
Low impact exercise
Data driven
Easy to Store
High User Capacity
Good Warranty
Negatives
Conclusion
Waterrower classic is certainly one of the best available rowing machines in the market. If you can get over the high initial price, the machine can last forever. This is an investment in the health of your entire family as anyone can use it without any issues. The machine is sturdy, durable and safe to use.