Cross trainers or elliptical trainers are stationary exercise machines that enable a person to stand up while working out. It simulates walking, running, or climbing the stairs without adding too much pressure on the joints. It is for this reason that people with injuries can still use this machine to stay fit. It can also be used to perform light or high-intensity based non-impact cardiovascular workout.  Cross trainers are also considered as an example of a weight bearing form of exercise and they also target the person's upper and lower body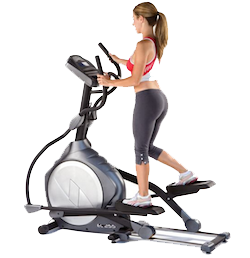 There are a lot of variations of cross trainers nowadays. Some can be self-powered using the user's motion and some need to be plugged in to adjust motions and/or to supply their electronic consoles and resistance systems. The types of elliptical cross trainers are categorized by their motor or "drive" location. The three types of cross trainers are the "rear drive" type which is also considered as the oldest, the "front drive", and the latest is the "center drive". You can easily get these machines for your home workouts.
The parts of the body that cross trainers' targets are the same with the treadmill- the leg muscles and the heart.  But other than that, there are still a couple of advantages that elliptical cross trainers have compared to other exercise machines. Unlike the other machines which can only target one or two body parts, the cross trainer offers an overall fitness package for the body which is very helpful in weight loss.
It also maintains bone density through its weight bearing form of exercise and creates a low impact workout by doing continuous elliptical motion. Learning to use this equipment is not hard because its principle is just similar to walking. Performing a whole body workout is also possible because the user can work the upper body muscles holding the handle of the equipment.  Planning and monitoring your cardio workouts is made easy by its onboard computers. The mechanical parts of the equipment are also not that hard to replace because it is simple equipment.
Most of the advanced exercisers think that the cross trainers are less effective compared to doing an aerobic exercises, running, or jogging. They think that since it is so easy and a low impact form of exercise, then it doesn't give a lot of benefits, but they are wrong. Not because this fitness equipment is so easy and soft, it doesn't mean that it less effective. Actually, a user who is doing the same intensity workout either by running or by using the cross trainer will feel less fatigue with the cross trainer because it offers a lower rate of perceived exertion. So whether you want to exercise to lose weight or just to increase your fitness level, cross trainers will surely be able to help you achieve your goal.